Be Your Own Blog Boss by HerPaperRoute is the complete blogging business roadmap. This course covers every single thing you need to know to confidently create, launch, run, market and monetize an income-earning blog!
Website setup
WordPress training
Blog branding
Monetization
Affiliate marketing
Email marketing
Social media marketing
Pinterest marketing
& more!
We use ads and affiliate links on our blog. This doesn't cost you anything, yet helps keep us online. Disclosure.
Click the 'Curriculum' tab to see the full course!
Be Your Own Blog Boss: HerPaperRoute's Complete Blogging & Affiliate Marketing Course
In this course you will learn the tools, tricks, and techniques to build a blog that earns an income not 6 months from now, but from the start.
My name is Chelsea, I'm the founder of HerPaperRoute & many other income-earning blogs.
I earn a full-time living as a blogger, and I share all of my tried tested and true strategies with you in Be Your Own Blog Boss!
This is the blogging blueprint you have been waiting for.
Ready to take your blog to the next level?
What You Will Learn
BLOG CREATION
What Makes A Blog Successful And Profitable

How To Define Your Ideal Reader & Customer (And Where To Find Them!)

Hosting & Domain & WordPress Set Up

How To Use WordPress

The Keys To Writing Killer Content

The Biggest & Most Costly Mistakes New Bloggers Make (You Won't Make Them After This Course!)

Laws & Legalities Concerning Blogging, That You Need To Be Aware Of
BRANDING
DIY Design & Photography & Branding – How To Design Your Own Logo, Graphics & Pins (No Design Degree Needed!)

Media Kit Development
MARKETING
Social Media Marketing, Content Schedule Development

Facebook, Twitter, Instagram & Pinterest Strategies

How To Increase Traffic, How To Use SEO

My Pinterest Marketing Strategy That Has Grown Blogs To Huge Success

Email Marketing, How I Grew My Subscribers by 1000 In 1 Month

How To Create A High Converting Lead Magnet
BUSINESS DEVELOPMENT
How To Create A Business Plan For Your Blog

How To Create A Sales Funnel
BLOG MONETIZATION
How To Monetize Your Blog And Start Making Money NOW

The Top 7 Revenue Sources And How To Add Them To Your Blog

How To Develop A Passive Income Stream

Understanding And Implementing Affiliate Marketing

What The Highest Paying Affiliate Programs Are, And How To Join Them

How To Get Approved For Sponsorship & Affiliate Programs Every Time

The Secrets To Growing Your Blog Income Every Single Month
What Be Your Own Blog Boss Students Are Saying
🖤
I was blown away by how much value Chelsea adds to just one course, this was exactly what I was searching for, a one stop shop where I could invest once and have all the tools I needed to be successful.

I was dreading the thought of having to purchase a course for each thing (I needed to learn) and then try to navigate and figure it out on my own. Luckily Chelsea's course has it all, and it is laid out in a way that is easy to follow. This course has changed my blogging life.
– Jessica @ OnBudgetMoms
🖤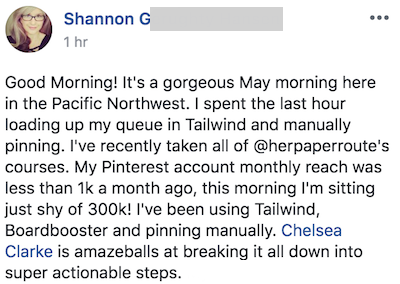 🖤
There are so many courses to choose from, and I know it can be way overwhelming. I bought a handful of courses and there was one in particular that I owe a lot of my success to: HerPaperRoute's course Be Your Own Blog Boss. I launched my blog 10 days ago, and I've already established 500 views PER day and I've MADE $80!!!! I am so proud of my little blog! Every morning, I brew my cup of coffee, sit down and literally watch my stats go up by the minute.
– Victoria @ imperfectlymama.com
🖤

🖤
Chelsea has the most amazing blog and her courses are literally sooo helpful. I find them so easy to follow, and the results have been amazing. It's amazing how much info is crammed in to it! If you're looking for the most complete guide on how to make money as an influencer, how to grow your brand and reach new heights in your biz, then you need to check it out.
– Laura @ laurajacquesaimh.com
There is so much to know, it's nearly impossible to figure it all out without wasting a ton of time and money on trial and error.
Be Your Own Blog Boss simplifies it all for you, so that you can save days, weeks, months and start earning a profit from your blog from the start!
By The End Of This Course You Will:
Have a correctly set up and live blog that is monetized
Know how to create a lead magnet that will grow your mail list subscribers, and know how to create a sales funnel that will convert those subscribers into customers
Be able to create passive income products that people want to buy, and how to market them to the right audiences
Know how to implement affiliate marketing strategies, and how to be approved as an affiliate with relevant brands
Be able to use SEO and social media effectively
Know how to harness the power of Pinterest to drive crazy amounts of traffic to your blog
Be able to create your own graphics, images and logo – no design degree needed
Have a business plan and a concrete vision of where your blog is headed
Have the skills and savvy to turn your first profit
This Course Provides You With An Easy To Follow
With The Exact Steps On What To Do, How And When
No Technical Jargon Or Unnecessary Info
What Else Is Included?
√ A Kit With All Of The Recommended Tools & Resources
√ Haute Hashtags Instagram Hashtag Ebook
√ Media Kit Templates
√ Free Trials Of The Best Social Media & Business Apps
√ 65% Off Hosting & tutorials on how to set the hosting up correctly
Get Started Now!
Pin This:
Welcome! Your Downloads & Freebies Are In Here!

1.1 Blogging Basics & What Makes A Blog Successful

1.2 Niche Down & Define Your Ideal Customer

1.3 Register Domain & Install WordPress W/ Bluehost (Recommended Tutorial)

1.3.1 Register Domain & Install WordPress W/ SiteGround (Alternative Tutorial)

2.1 Choose & Install Theme & Plugins

2.2 Important! Set Your Permalink Structure

2.4 Create A Menu In WordPress

2.5 Google Analytics, Search Console & How To Submit Your Blog To Google

Branding & Content Creation

3.1 DIY Design, Branding & Photography

3.2 Costly New Blogger Mistakes To Avoid

3.3 How To Write A Blog Post & SEO Basics

3.4 The Keys To Writing Killer Content

3.5 Anatomy Of An Epic Blog Post

3.6 How To Write Your 'About Me' Page

3.7 Legal Tips You Need To Be Aware Of

4.1 Intro To Email Marketing

4.2 List Building & Email Marketing (Create Your High Conversion Lead Magnet)

4.3 Deliverability & Avoiding Spam Filters

4.4 ConvertKit Quickstart Terms

4.5 Convertkit Demo: Create A Welcome Sequence

4.6 It's Launch Day! Launch Day Checklist

5.1 Social Media Marketing Content Development Guide

5.2 Get Pinterest Verified & Enable Rich Pins

5.3 Pinterest Marketing Strategy

6.1 Intro To Blog Monetization

6.2. Affiliate Marketing Explained

6.3 Affiliate Marketing Terms

6.4 Get Approved To Affiliate Programs Every Time (Pro Secrets)

6.5 Directory Of High Paying Affiliate Programs

6.6 Blog Sponsorship Basics

6.7 Media Kit Development